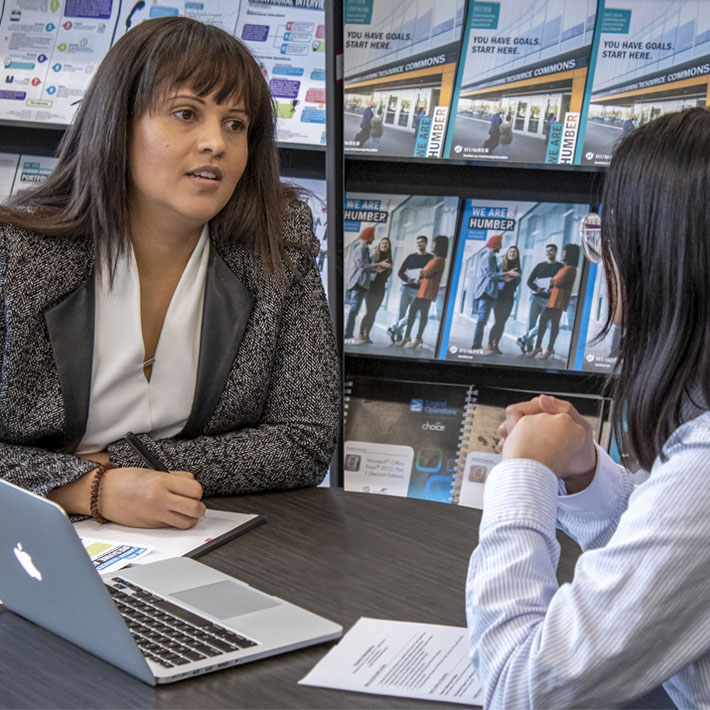 Want to hire a student?
Find out how you can hire a Humber student through the workstudy program with our step-by-step guide. Please note you will have to login and create a post through the employer link to post a position.
Helping You to Hire a Humber Student to Work on Campus
Step 1: Funding
Ensure there is funding in your budget. If the student is a Work Study student, your department head will know if there is enough funding. If the student is not a Work Study student (usually they are from out-of-province or International), then your budget will need to pay 100% of the wages, so again, check to make sure there is funding available.
Step 2: Write a Job Description
Writing a job description takes some time, so try not to hurry through it. Remember the student work should be at a student level and should be meaningful.
Below you will find tips on how to write an effective job description.
Download file "Tips for Writing an Effective Job Description"
Step 3: Post the Job
Post the job at careers.humber.ca – all postings must be listed there. You must note in the posting if the position is Work Study or not. You may also note in the comments if you do not want the position to be posted.
Take a look at the pdf below for helpful templates.
Download file "Job Postings Template"
Step 4: Review and Interview
Review applications, and interview candidates.
Once the job posting closing date has ended, compile and review all your applications. You may want to keep your interview list short (five or fewer). Interviews usually last 15-30 minutes, and for most student positions, only one interview is usually required. Remember if you need to see a student's work (graphic design, art, writing) ask them to bring a portfolio or samples with them to the interview.
Ask the student to bring a reference list to the interview also. Before you make your final decision, check with the student's references.
Step 5: The Hiring Contract
Once you have selected your candidate for hire, you must complete a Non-Full-Time Hiring Contract (which includes banking information) for each student. Once completed, you must send it to Jesmin Fuad, North Campus. Please ensure you complete the account information: Work-Study Object code (6352), example, 1000-0000-6352-00 for 100%.
The Work-Study Offices will verify the status of the student, stamp the contract and forward it to Human Resources for processing within the appropriate deadlines. If the student does not qualify for Work-Study you will be notified. Your allocation of the Work-Study budget will be transferred into your Department/Faculty's account.
In addition to an offer letter (found below), a supplemental contract outlines expectations for students and for you, as the supervisor.
Download file "Student Employee Offer Letter Template"
Download file "Supplemental Student Employee Contract"
Step 6: Student's First Day
Before the student begins, review the Onboarding Student Employee document to ensure you're ready for the student's first day. Most positions require a training period which may be quite short and informal, or a day or two. It's a good idea to organise the training prior to the student's first day.
Download file "Onboarding Student Employee"
Download file "Sample Training Agenda"
Step 7: Duration of Employment
Throughout the student's employment, you should give feedback and meet regularly with the student.
Assuming the student is working for the academic year, a short performance review should be conducted before the December break, and a more formal, detailed review should take place closer to the end of the contract (around March). Here you will find tips on how to conduct a performance review as well as the official review form which can be used for student employees.
Download file "How to Conduct a Performance Review"
Download file "Support Staff Performance Review Form"
As the end of the contract approaches, take some time to review the offboarding checklist, which will ensure the final days run smoothly for both you and the student.
Download file "Offboarding Student Employee Checklist"